Chocolate Chip Walnut Cookies
Chocolate chip walnut cookies are a classic dessert that never gets old. They're soft, chewy, and packed with delicious chunks of chocolate and crunchy walnuts.
This recipe is perfect for satisfying your sweet tooth, and the addition of walnuts adds a nutty and satisfying crunch that complements the sweetness of the chocolate chips.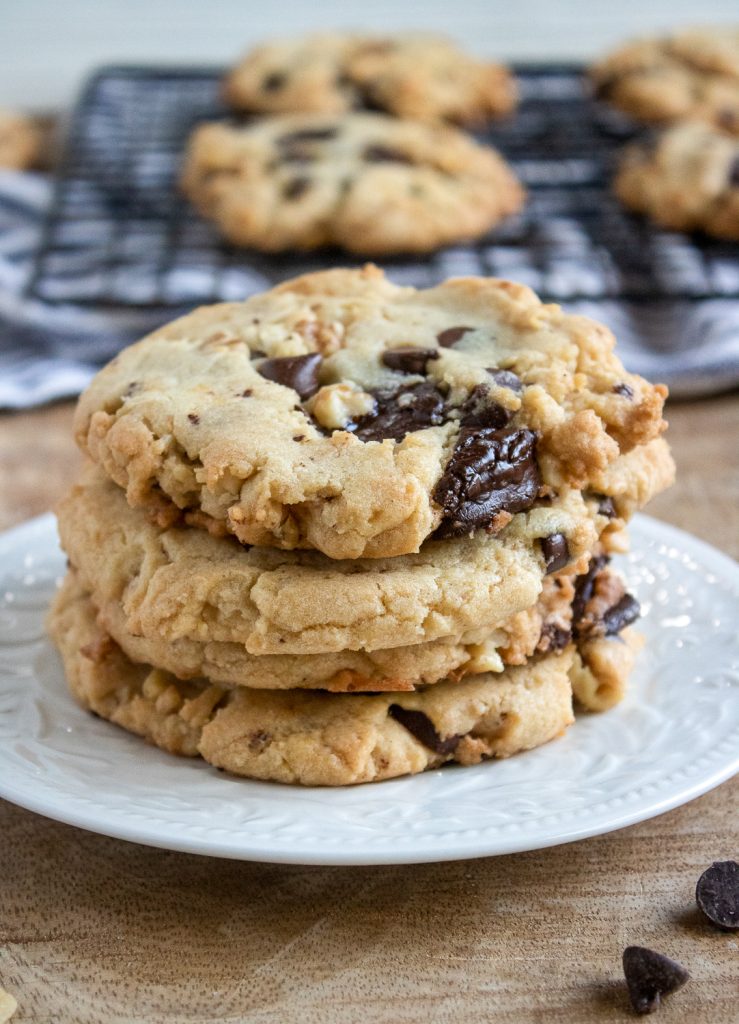 This post contains links to products I like and think will be useful to you. If you click through and make a purchase I make a commission.
Whether you're baking these cookies for a special occasion or just as a treat for yourself, they're sure to be a crowd-pleaser. So, grab your mixing bowl and get ready to whip up a batch of these irresistible chocolate chip walnut cookies.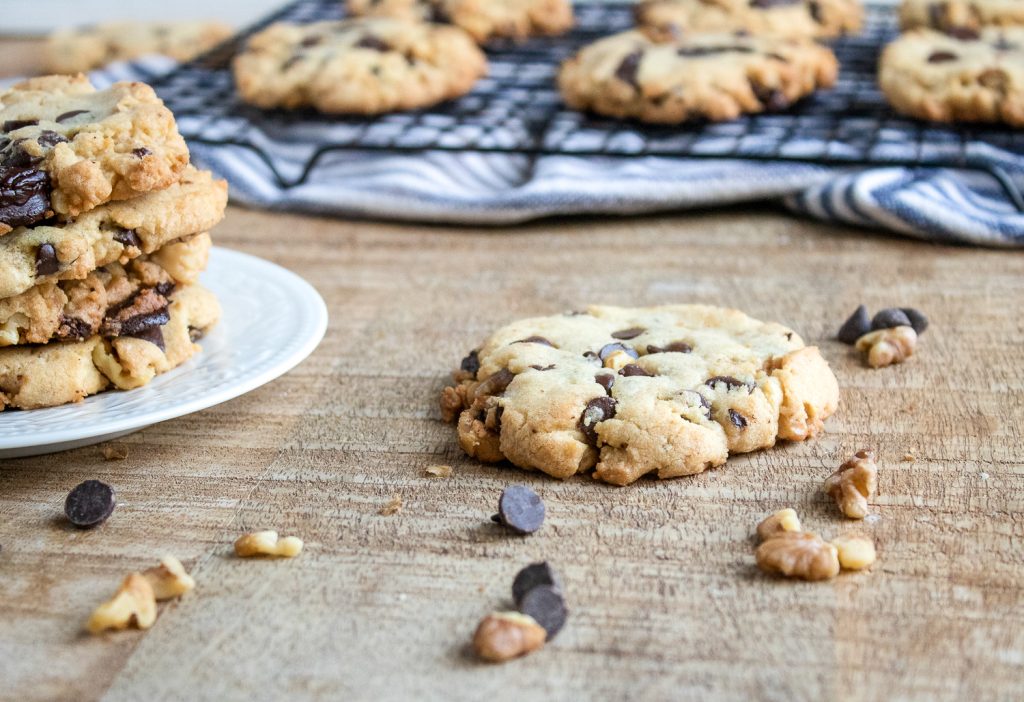 Can I substitute other nuts for walnuts in this recipe?
Yes, you can substitute other nuts such as pecans, almonds or hazelnuts for the walnuts if you prefer.
Can I use dark chocolate chips instead of semi-sweet?
Yes, you can use dark chocolate chips if you prefer a richer, more intense chocolate flavor.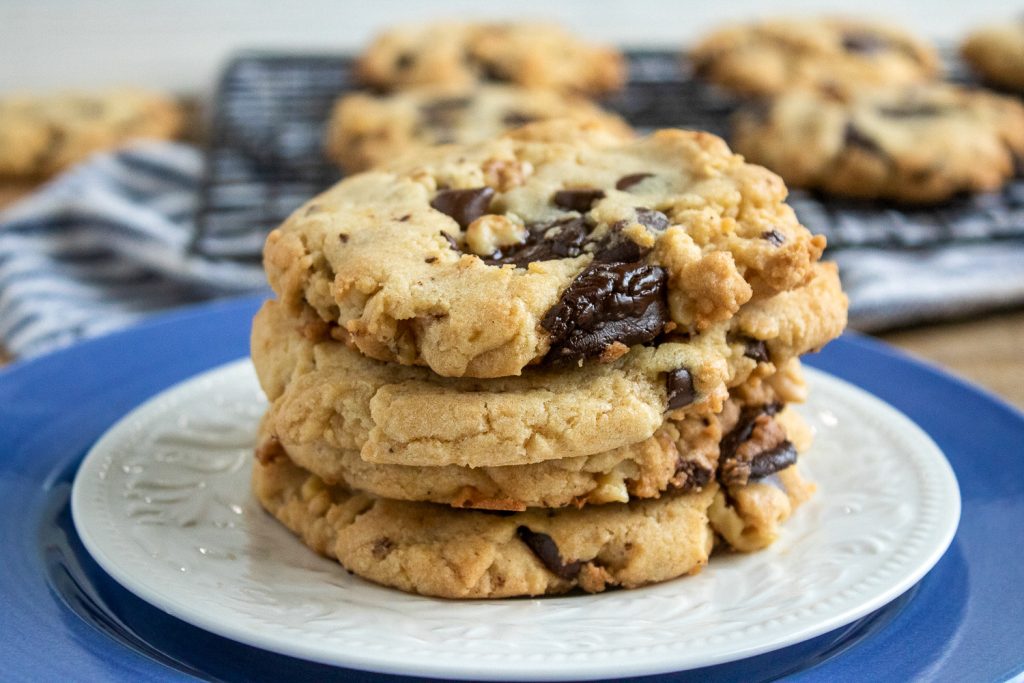 What ingredients to I need to make these chocolate chip walnut cookies?
Ingredients:
vegetable shortening
unsalted butter
granulated sugar
brown sugar, packed
eggs
vanilla extract
all-purpose flour
baking powder
baking soda
salt
chocolate chips
dark chocolate bar, chopped
walnuts, chopped
Helpful tools to make this recipe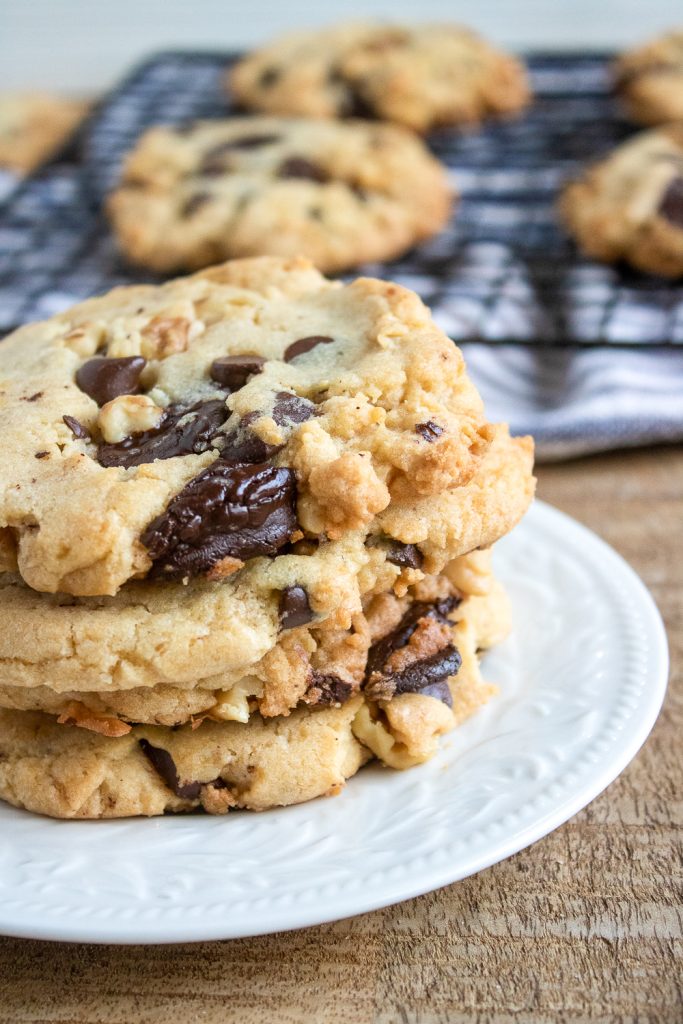 What other recipes should I try?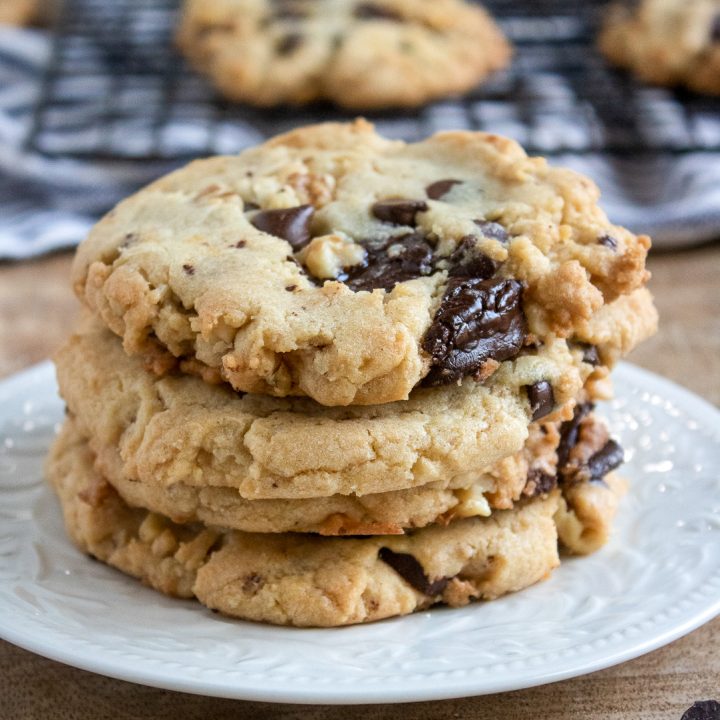 Chocolate Chip Walnut Cookies
Ingredients
½ c. vegetable shortening
½ c. unsalted butter
1 c. granulated sugar
1 c. brown sugar, packed
2 large eggs
2 t. vanilla extract
3 c. all-purpose flour
1 t. baking powder
1 t. baking soda
½ t. salt
1 c. chocolate chips
3-oz. dark chocolate bar, chopped
1 c. walnuts, chopped
Instructions
Preheat oven to 375°F and line a large, rimmed baking sheet with parchment paper or a Silpat® baking mat. Set aside.
Cream shortening and butter with granulated and brown sugars in a large mixing bowl. Mix in eggs and vanilla extract until well blended.
Add in flour, baking powder, baking soda, and salt. Mix to combine.
Fold in chocolate chips, chopped chocolate and walnuts until thoroughly combined.
Use a large cookie dough scoop to make 24 balls of dough. Place 6 balls of dough on the prepared baking sheet with 1-2 inches in between each ball. Flatten dough with the bottom of a glass.
Place in pre-heated oven and bake 10-12 minutes or until golden brown and cooked through. Remove from oven and cool slightly before serving. Enjoy!