San Marino Chicken Fideo Soup
Chicken fideo soup is a classic Mexican dish that's perfect for chilly days when you want something warm and comforting.
This soup is made with tender chunks of chicken, short, thin noodles called fideos, and a flavorful broth that's infused with aromatic spices and fresh herbs.
This post contains links to products I like and think will be useful to you. If you click through and make a purchase I make a commission.
With a few simple ingredients and an easy cooking method, you can have a delicious and satisfying bowl of soup on the table in no time. In this recipe, we'll show you how to make a mouth-watering chicken fideo soup that's sure to become a favorite in your household.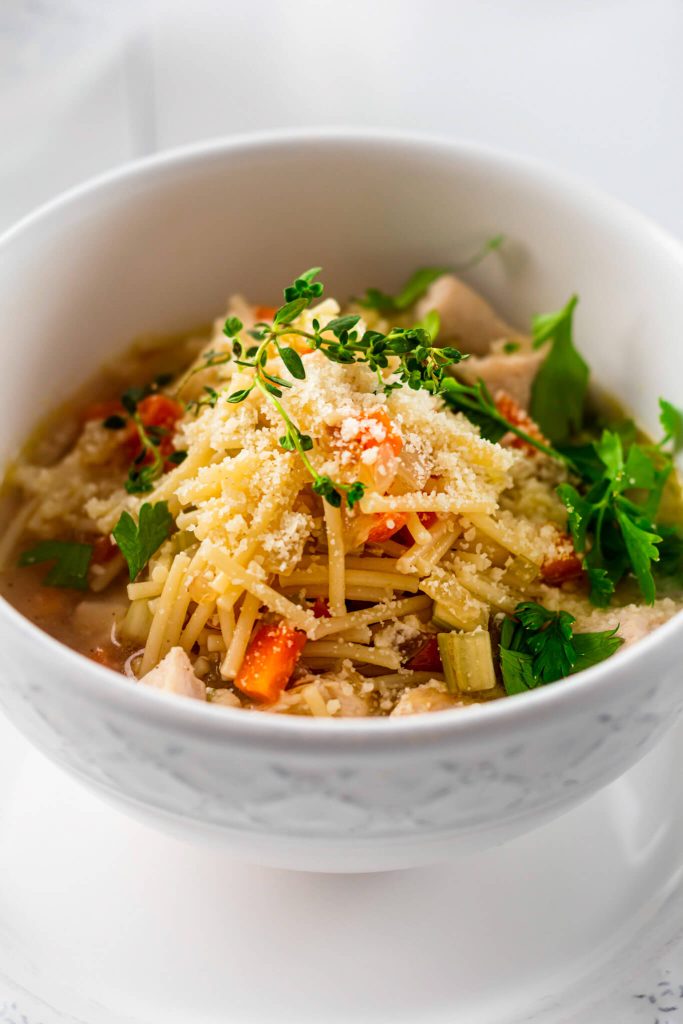 What is fideo and where can I find it?
Fideo is a type of short, thin noodle that's commonly used in Mexican cuisine. It's similar to vermicelli pasta, but thinner and shorter. You can find it at most grocery stores in the Hispanic foods aisle or online.
Can I make this soup in advance?
Yes, you can make this soup in advance and store it in the refrigerator for up to 3 days. Reheat it on the stove or in the microwave before serving.
What ingredients to I need to make RECIPE?
olive oil
onion
carrots
celery
thyme
chicken breasts
salt and black pepper
chicken stock
Fideo noodles
lemon zest
lemon juice
nutmeg
Parmesan cheese,
Optional Garnish: Fresh parsley and thyme
Helpful tools to make this recipe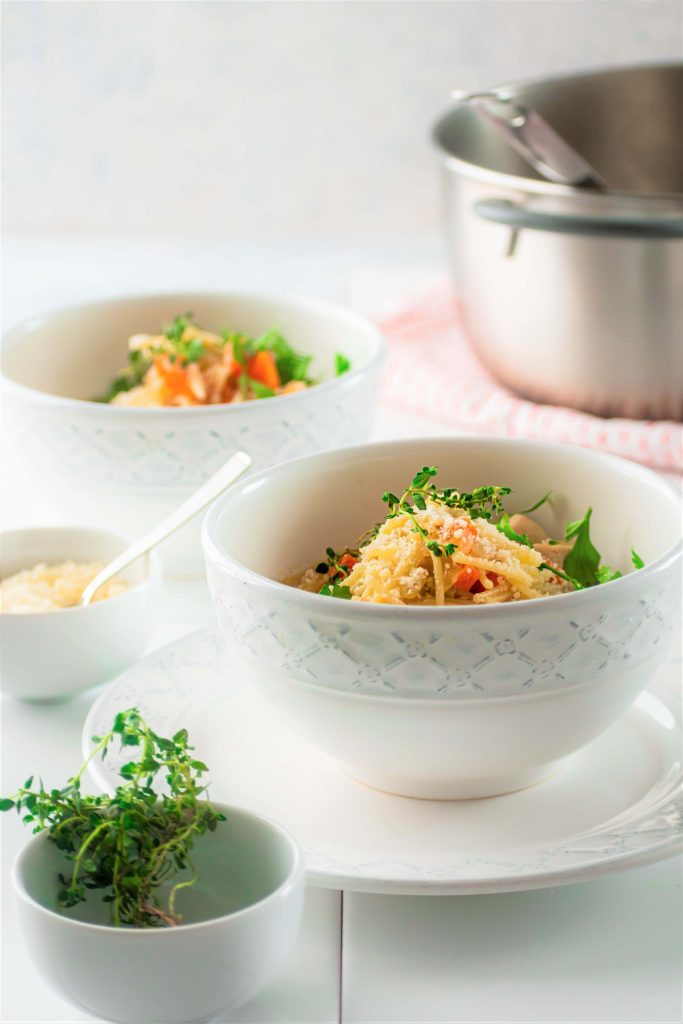 What other recipes should I try?
San Marino Chicken Fideo Soup
Ingredients
3 T. extra virgin olive oil, divided
1 medium sweet onion, diced
2 medium carrots, peeled and diced
2 celery stalks, diced (leaves reserved)
1 T fresh thyme, crushed
1 lb. boneless skinless chicken breasts cut into 1" cubes
salt and black pepper, to taste
8 c. low-sodium chicken stock, divided
1 cup Fideo noodles, cooked and drained
1 T fresh lemon zest
1 T fresh lemon juice
1/4 t. ground or freshly grated nutmeg
Freshly grated Parmesan cheese, to taste
Optional Garnish: Fresh parsley and thyme
Instructions
Heat 2 T. olive oil over medium heat in a large stockpot or Dutch oven. Add onion and sauté 2 minutes until just beginning to soften. Add carrots, celery (including leaves) and thyme and sauté 4 minutes.
Add chicken, salt, pepper and 4 cups chicken stock. Partially cover and simmer for 20 minutes or until chicken is cooked through and vegetables are tender.
While soup is simmering, cook Fideo according to package directions in remaining broth until al dente. Reserve 2 cups of cooking liquid before draining pasta. Drain pasta and transfer to a medium bowl and toss with remaining olive oil. Cover and set aside.
Just before serving, add Fideo to Dutch oven. Stir and remove from heat.
Add lemon zest, lemon juice, nutmeg. If soup is too thick, add a little bit of the reserved cooking liquid to desired consistency.
To serve, divide Fideo among individual serving bowls and top with hot soup. Add freshly grated Parmesan cheese.
Garnish with additional fresh cracked pepper and fresh parsley and thyme if desired. Serve with hot crusty bread and/or a crisp, garden salad for a light and delicious meal. Enjoy!
Notes
Fideo are a short cut spaghetti noodle. If you are unable to find them at your local market, vermicelli broken into 1" pieces is a good substitute.  For best results, cook the Fideo separately, rather than in the same pot with the rest of the ingredients. This extra step yields more consistent results by eliminating the release of excess starch into the soup. It also prevents the noodles from becoming too soft and mushy, which means more appetizing leftovers the next day and better results when freezing for future use. Cooking the Fideo in chicken stock instead of water adds an extra layer of flavor.  
For a bit more flavor, you can use economical boneless, skinless chicken thighs instead of the chicken breasts, but be sure to trim and remove any excess fat first.